Marty Kaan is the lead character - an extraordinary but unscrupulous management consultant, gifted at identifying, and exploiting, the weaknesses of clients to get them to sign on the dotted line.  He is offensive, egotistical, narcissistic, womanizing, crafty, and very "un-PC," all of which make him very good at his job. [1]
Marty was a Junior Partner at Galweather & Stearn, but finally found the courage to branch out and start his own firm. Although initially, his pod was wary, they eventually joined him at Kaan & Associates.
When his mother committed suicide, he was left with three remaining family members with whom he has had tumultuous relationships. His gender non-conforming son Roscoe was the subject of a custody battle with his ex-wife; he fought with his brother over police brutality and racism; and his father kept his dementia condition from him. Despite this, his family are important to him and consequently his work performance frequently suffered at Galweathers.
He long maintained that Jeannie would sleep with him, a prediction that came to fruition when they got drunk together and eventually married.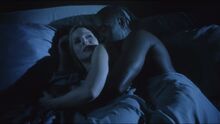 Community content is available under
CC-BY-SA
unless otherwise noted.